Lowestoft Group
Introduction
LOWESTOFT - the British Isles' most easterly town, is situated in the north-east of the county and was mentioned in the Domesday Book. In the 18th & 19th Centuries it expanded and absorbed the adjacent hamlets of Kirkley, Normanston and Carlton Colville and has grown to a town with a population of 70,000.
Many of the major industries have disappeared but some tentative regeneration is occurring, mainly in the field of windfarm turbine building and maintenance. Two large marinas attract private yachts and cruisers from Europe. The town still manages to attract day visitors with its superb Blue Flag beaches and safe bathing
The Maritime Museum in Sparrow's Nest Gardens houses a large collection dedicated to the now defunct fishing industry. During WW2, Sparrow's Nestiwas the home of was the The Royal Navy Patrol Service which occupied the Nest throughout the war and was named HMS Europa. The Lowestoft War Museum, which contans a vast collection of photographs and artefacts of Lowestoft in WW2, is alway pleased to welcome visitors. A memorial to members of the RNPS is in the adjacent Belle Vue Park displaying the names of 2385 seamen who "have no known grave".
The Lowestoft Museum in Nicholas Everitts Park, Oulton Broad, has a fine collection of Lowestoft Porcelain.
Our Group
In 1975 Katherine Bardwell with a few like-minded individuals started a small group which was held at Lowestoft library - there was no record office there then. The launch was very successful and the Suffolk Genealogy Society was born, with Katherine as its chairman & magazine editor. Later a group at Ipswich was formed and the name changed to Suffolk Family History Society.
The group has been active over the years in promoting family history with stalls at various local events. Parish register transcriptions have been foremost and most parishes in the Waveney district have been transcribed wholly or partially. Likewise with Monumental inscriptions and most churchyards have been transcribed.
Meetings are held, usually, on the first Tuesday of each month (except Jan & Aug) at
United Reformed Church, London Road North, Lowestoft, NR32 1HB.

Ample free parking is available and there is disabled access.
Click here for directions.
Doors open at 7pm and the meeting starts at 7.30pm with entry for SFHS members £1.50 and non-members £2.00. Newcomers are especially welcome.
We have a varied programme of interesting talks & speakers and following this tea or coffee and biscuits are served. We usually have a book stall and CDs of transcripts and other documents are available if requested.
We always like a chance to discuss Family History interests so if you're just starting or stuck and need help or advice do please feel free to ask any of the Committee.
We also transcribe Parish & Workhouse registers for the Society's current projects at the Lowestoft Record Office and if you'd like to help or know more about this, again do please ask.
Links
Lowestoft Online - This website gives a good deal of useful information about Lowestoft, including how to get there, places to visit and so on.
Waveney District Council Cemetery Index - On-line indexes for the cemeteries of Beccles, Bungay, Halesworth, Kirkley, Lowestoft, Southwold, Wrentham, and the Royal Naval Patrol.
Royal Naval Patrol Service Memorial - The Memorial commemorates members who died during 1939-1946 and have no known grave other than the sea.
"Excelsior" LT472 - A Lowestoft smack built in 1921, this fishing vessel has been meticulously restored to her original sailing appearance.
Lowestoft Workshop and Heritage
Lowestoft Maritime Museum Sparrow's Nest
Lowestoft Museum, Nicholas Everitts Park - Lowestoft Museum collects, preserves and displays objects relating to the history of the area and its people, and promotes awareness and interest in our rich heritage.
Lowestoft Archaeological & Local History Society - meetings at South Lowestoft Methodist Church,London Road South at 7.30.
Contact
Secretary: Beryl Capps
01502 562584
or by Email: lowestoft@suffolkfhs.org.uk
Last Modified on 17/03/2017 by Malcolm Rose
News
"Blackadder Goes Forth"
Posted by Janis Kirby on Sat, 17th Feb 2018
Part of an article from Lowestoft Journal 17th Feb 2018 by Mark Boggis
"A popular television star and historian has added his weight to a campaign to save Lowestoft's record office.
Sir Tony Robinson has backed the campaign to overturn a decision by Suffolk County Council to close Lowestoft Record Office and absorb its archives into a multi-million pound facility in Ipswich.
With more than 5,000 signatures having now been collected in the fight to save Lowestoft's record office a meeting with members of the Save Our Record Office group (SORO), Waveney MP Peter Aldous and Suffolk County Council will take place on Friday, February 23, at Lowestoft Library,
The campaign group was formed following an announcement on January 10, when the county council said the record office, based at Lowestoft Library, would be replaced with an unmanned access point by the end of 2019. The decision would also see the documents currently stored there moved down to Ipswich.
Sir Tony, star of the hit BBC comedy series Blackadder and Channel 4's Time Team, sent a message of support to Trudie Jackson, who set up the SORO group with Janis Kirby.
In an email to the SORO group, Sir Tony said: "Waveney and the Suffolk coast have their own unique history. To amalgamate their records and stories with those of the rest of Suffolk would do a great disservice to the strong sense of localism that makes this part of our island so special."
The petition can still be signed online at www.change.org/p/tony-goldson-save-our-record-office
Lowestoft Group visit
Posted by Janis Kirby on Tue, 6th Feb 2018
On Thursday 18th January the Lowestoft Group, together with friends, visited the Heritage Centre in Lowestoft's historic High Street and enjoyed looking through bound copies of old issues of Lowestoft Journal and viewed a photographic display of the town in years gone by. The model of the now demolished beach village proved a talking point, especially when the room lights were dimmed and the model's lights lit up.
A detailed explanation of the 17th century plaster ceiling recovered from a now demolished farmhouse at Stoven, proved enlightening. Thanks to all at the Heritage Centre for opening up for our visit.
After a very successful evening, the group of 20 people retired to the Flint House Café (built in 1586, and the home of the Wilde Family and Admiral Sir Thomas Allen) and conveniently, next door to the Heritage Centre where tea, coffee and cake were enjoyed by all. We'd like to express our grateful thanks to Maria for opening the Flint House Café especially for us on a cold winter's evening.
Proposed Closure of Lowestoft Record Office
Posted by Malcolm Rose on Mon, 5th Feb 2018
The recent announcement by the Suffolk County Council that the Lowestoft Record Office will be closed in 2019 has angered local historians, family history researchers and others who relied on having access to such a resource. What annoyed them was not only the fact that they were losing an essential facility, but the manner in which it was announced, without any indication that the SCC was even contemplating such massive reduction in Lowestoft's local history resources. There had been no prior notice of intention and no discussion with interested parties.
It was decided to call a meeting to organise a protest against this decision by the SCC. At the meeting a committee was formed and an action plan formulated . It was decided call our protest SORO (Save Our Record Office) and engage social media, a Facebook account was opened, paper and internet petitions set up. If you wish to register your protest, you may sign the petition on line at this address: tonygoldsonsaveourrecordoffice. Alternatively, you can contact SORO at soro@lowestoft.org.uk
BBC Radio Suffolk Interview
Posted by Amanda Straderick on Mon, 1st Jan 2018
Happy New Year to you all. I hope you had a enjoyable night. Today at 2.20pm you will hear me on BBC radio Suffolk talking about family history. The interview is covering many aspects of the subject. I hope you can listen in if you our free to do so.
Amanda Straderick
Lowestoft Group Treasurer
Admin Trustee
Lowestoft Long-serving Committe members stand down
Posted by Malcolm Rose on Wed, 22nd Nov 2017
Facebook
Posted by Janis Kirby on Mon, 20th Nov 2017
Lowestoft Group now has its own Facebook Page thanks to Committee member Sue Barnard. You will find us on Suffolk Family History Society Lowestoft Group, please take a look and "Share" us. Perhaps you would like to join the Group if you have family connection in this area.
Lowestoft Group Committee Lunch
Posted by Malcolm Rose on Sat, 26th Aug 2017
Awards to retiring Committee Members
Posted by Janis Kirby on Thu, 8th Jun 2017
David Daldry presented Pat King-Gardiner and David Belden with awards of appreciation for all their hard work for the Lowestoft Group at the AGM on 2 May. We would like to offer our congratulations also. The AGM was dealt with quickly and then followed an interesting talk of a Soldier's Life from WW1 by popular local historian Ivan Bunn
Visit to the Lowestoft War Museum
Posted by Malcolm Rose on Tue, 7th Feb 2017
On Tuesday 31st January seventeen members gathered at the Lowestoft War Museum. This museum situated in part of the building which was once the summer residence of Robert Sparrow , The Sparrow's Nest Gardens. During the War it was taken over by the Royal Navy as part of the base for the Royal Navy Patrol Service station, HMS Europa. There we were welcomed by Robert Jarvis and collegues. As one of three museums in the gardens this one is devoted to memorabilia and photos of Lowestoft during WW2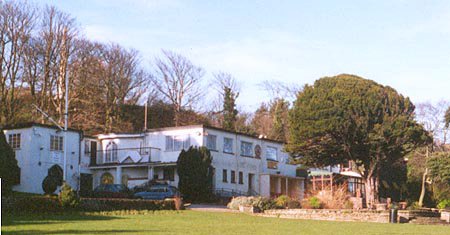 Lowestoft Group at AGM and History Fair
Posted by Malcolm Rose on Tue, 27th Sep 2016
Events
Date
Details
Speaker
06/02/2018
Photographs of Old Lowestoft
An evening of nostalgia from a collector's album
Bert Collyer
06/03/2018
Lowestoft Artist - George Vemply Burwood
The Life and work of a prolific Suffolk Artist
Janis Kirby
03/04/2018
April Fools - Pitfalls in Family History Research
Tell us about any brick walls encountered in Family History Research. We may be able to help.
Members and Visitors participation
01/05/2018
ANNUAL GENERAL MEETING
Followed by a talk - A Suffolk Family Heads West - A Story of Dedication, Strength and Courage
Ivan Bunn
05/06/2018
Beccles Museum and World War One
The history of Beccles Museum and World War One
Alan Wheeler
03/07/2018
For those in Peril...
A talk by a member of Lowestoft's Lifeboat Crew followed by any stories by members who had ancestors in Lifeboat crews.
Member Lowestoft Lifeboat Crew
07/08/2018
NO MEETING

04/09/2018
Failed to Return
A number of aircrew, from Lowestoft, failed to return from missions over Germany, Bob Collis relates the stories of these men
Bob Collis
02/10/2018
Research Evening

Members and Visitors participation
06/11/2018
World War One Battlefields

Robin Keighley
Contact
For further details on the programme you should contact
Secretary: Beryl Capps
01502 562584
or by Email: lowestoft@suffolkfhs.org.uk