Lowestoft Group
Introduction
LOWESTOFT - the British Isles' most easterly town, is situated in the north-east of the county and was mentioned in the Domesday Book. In the 18th & 19th Centuries it expanded and absorbed the adjacent hamlets of Kirkley, Normanston and Carlton Colville and has grown to a town with a population of 70,000.
Many of the major industries have disappeared but some tentative regeneration is occurring, mainly in the field of windfarm turbine building and maintenance. Two large marinas attract private yachts and cruisers from Europe. The town still manages to attract day visitors with its superb Blue Flag beaches and safe bathing
The Maritime Museum in Sparrow's Nest Gardens houses a large collection dedicated to the now defunct fishing industry. During WW2, Sparrow's Nestiwas the home of was the The Royal Navy Patrol Service which occupied the Nest throughout the war and was named HMS Europa. The Lowestoft War Museum, which contans a vast collection of photographs and artefacts of Lowestoft in WW2, is alway pleased to welcome visitors. A memorial to members of the RNPS is in the adjacent Belle Vue Park displaying the names of 2385 seamen who "have no known grave".
The Lowestoft Museum in Nicholas Everitts Park, Oulton Broad, has a fine collection of Lowestoft Porcelain.
Our Group
In 1975 Katherine Bardwell with a few like-minded individuals started a small group which was held at Lowestoft library - there was no record office there then. The launch was very successful and the Suffolk Genealogy Society was born, with Katherine as its chairman & magazine editor. Later a group at Ipswich was formed and the name changed to Suffolk Family History Society.
The group has been active over the years in promoting family history with stalls at various local events. Parish register transcriptions have been foremost and most parishes in the Waveney district have been transcribed wholly or partially. Likewise with Monumental inscriptions and most churchyards have been transcribed.
Meetings are held, usually, on the first Tuesday of each month (except Jan & Aug) at
United Reformed Church, London Road North, Lowestoft, NR32 1HB.

Ample free parking is available and there is disabled access.
Click here for directions.
Doors open at 7pm and the meeting starts at 7.30pm with entry for SFHS members £1.50 and non-members £2.00. Newcomers are especially welcome.
We have a varied programme of interesting talks & speakers and following this tea or coffee and biscuits are served. We usually have a book stall and CDs of transcripts and other documents are available if requested.
We always like a chance to discuss Family History interests so if you're just starting or stuck and need help or advice do please feel free to ask any of the Committee.
We also transcribe Parish & Workhouse registers for the Society's current projects at the Lowestoft Record Office and if you'd like to help or know more about this, again do please ask.
Links
Lowestoft Online - This website gives a good deal of useful information about Lowestoft, including how to get there, places to visit and so on.
Waveney District Council Cemetery Index - On-line indexes for the cemeteries of Beccles, Bungay, Halesworth, Kirkley, Lowestoft, Southwold, Wrentham, and the Royal Naval Patrol.
Royal Naval Patrol Service Memorial - The Memorial commemorates members who died during 1939-1946 and have no known grave other than the sea.
"Excelsior" LT472 - A Lowestoft smack built in 1921, this fishing vessel has been meticulously restored to her original sailing appearance.
Lowestoft Workshop and Heritage
Lowestoft Maritime Museum Sparrow's Nest
Lowestoft Museum, Nicholas Everitts Park - Lowestoft Museum collects, preserves and displays objects relating to the history of the area and its people, and promotes awareness and interest in our rich heritage.
Lowestoft Archaeological & Local History Society - meetings at South Lowestoft Methodist Church,London Road South at 7.30.
Contact
Secretary: Beryl Capps
01502 562584
or by Email: lowestoft@suffolkfhs.org.uk
Last Modified on 17/03/2017 by Malcolm Rose
News
Lowestoft Group Committee Lunch
Posted by Malcolm Rose on Sat, 26th Aug 2017
Awards to retiring Committee Members
Posted by Janis Kirby on Thu, 8th Jun 2017
David Daldry presented Pat King-Gardiner and David Belden with awards of appreciation for all their hard work for the Lowestoft Group at the AGM on 2 May. We would like to offer our congratulations also. The AGM was dealt with quickly and then followed an interesting talk of a Soldier's Life from WW1 by popular local historian Ivan Bunn
Visit to the Lowestoft War Museum
Posted by Malcolm Rose on Tue, 7th Feb 2017
On Tuesday 31st January seventeen members gathered at the Lowestoft War Museum. This museum situated in part of the building which was once the summer residence of Robert Sparrow , The Sparrow's Nest Gardens. During the War it was taken over by the Royal Navy as part of the base for the Royal Navy Patrol Service station, HMS Europa. There we were welcomed by Robert Jarvis and collegues. As one of three museums in the gardens this one is devoted to memorabilia and photos of Lowestoft during WW2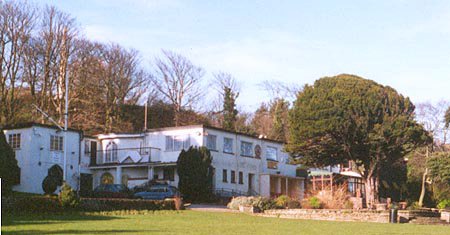 Lowestoft Group at AGM and History Fair
Posted by Malcolm Rose on Tue, 27th Sep 2016
Lowestoft Group Exhibition at the Lowestoft Librar
Posted by Malcolm Rose on Wed, 24th Aug 2016
Visit to the Suffolk Police Museum
Posted by Malcolm Rose on Sat, 19th Mar 2016
Lowestoft enters the 21 century, at last!
Posted by Amanda Straderick on Wed, 2nd Mar 2016
Members of the Lowestoft group have just been trained in blogging. Please log in regulary to see what we're up to here in the east.
Events
Date
Details
Speaker
31/01/2017
ADDITIONAL EVENT Visit to Lowestoft War Museum
Meet at the Museum at 6.45pm for a guided tour, film and refreshments
Visit to Lowestoft War Museum
07/02/2017
History on Your Doorstep
An Audio Visual presentation
Derek and Judy Leak
07/03/2017
"Gold! Gold! Gold!"
The Story of the Yukon Gold Rush
Richard Mann
04/04/2017
Tell Me a Story
Members are given the opportuniy to reveal their experiences in family history research
Members and non members participation
02/05/2017
Annual General Meeting Followed by a Talk- Story of a Suffolk Soldier
An Illustrated Presentation of the Story of a Suffolk Soldier in the Great War
Ivan Bunn
06/06/2017
The Whistlecraft Family
An Illustrated presentation on a infamous Suffolk family
Pip Wright
04/07/2017
My Favourite Family History Find
Bring along the item/document that has helped you in your research or even tell us about the piece of information given to you that gave you that "boost".
Members and Visitors
01/08/2017
NO MEETING

16/08/2017
Committee Lunch

05/09/2017
Keep Smiling Through
Letters from a Prisoner of War Camp WW2
Sandra Delf
03/10/2017
Local Interest Films
To be held at Lowestoft Movie Makers Studio Theatre, Sparrow's Nest at start at 7pm
Harold Whitewood
07/11/2017
The History of the Lowestoft Maritime Museum

Colin Dixon
05/12/2017
What's in Our Cupboard?
What's in Our Cupboard? The contents of The Group's archive store are given an airing. A chance to explore the content of CDs of Memorial inscriptions and other records held by the Group.
Contact
For further details on the programme you should contact
Secretary: Beryl Capps
01502 562584
or by Email: lowestoft@suffolkfhs.org.uk